Sending a Standard Messenger
A very useful feature of DF Studio is the ability to share images with clients and collaborators without the use of direct login credentials. A user can send a Messenger to a client, coworker, or an approving party in order to obtain approvals from or share files with those recipients. It is recommended that account holders communicate with outside parties with messengers to avoid giving those individuals direct access to  the account. A Messenger is delivered in the form of an email with an enclosed link.



To begin the process of sending a Messenger, select your images and then click Send to open the Messenger Wizard.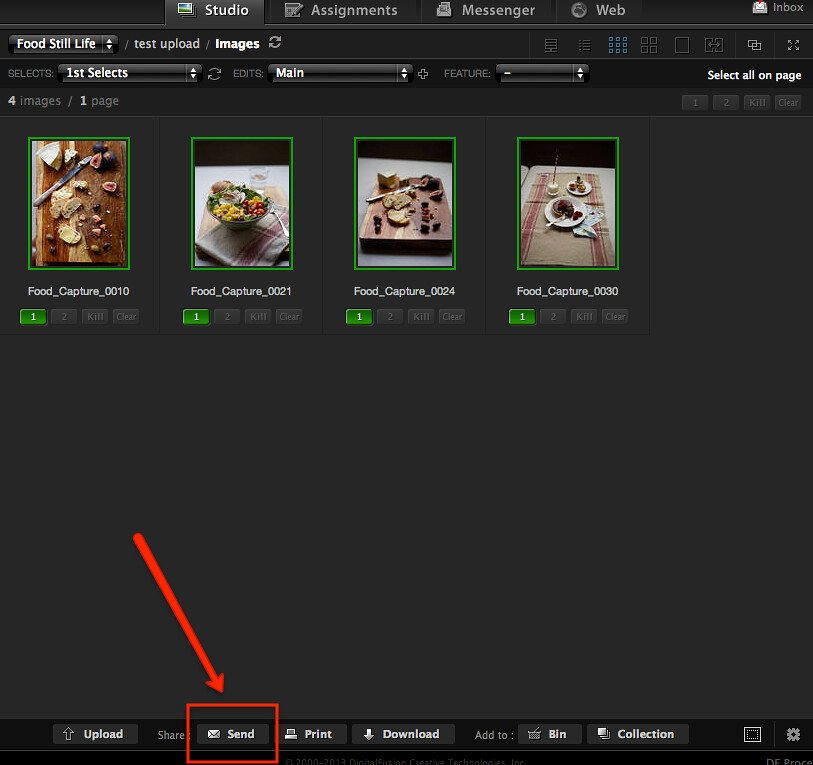 ARRANGE IMAGES (Optional - The Wizard skips over this page but you may choose to click on the tab and go back to it.)
           1. From the Sort Images drop down menu, choose the order of the images (optional).
  OR
           2. Drag and drop the images into your preferred order (optional).




           3. Click on Next Step to go to the "Options" tab.

OPTIONS
On this page of the wizard, you will be presented with certain customization choices:
           1. Make sure to name the "Messenger" and set the expiration. The default is "1 week" (after which the link will become unavailable), but a custom date can also be assigned for a shorter or longer length of time.
           2. You can choose between 4 template choices available (the large buttons on the left), or you may choose to select specific 
features and options, which are located to the right of the template buttons.
Note that by selecting any of the optional features (to the right), the "Custom" button is activated, 
indicating that custom features have been selected.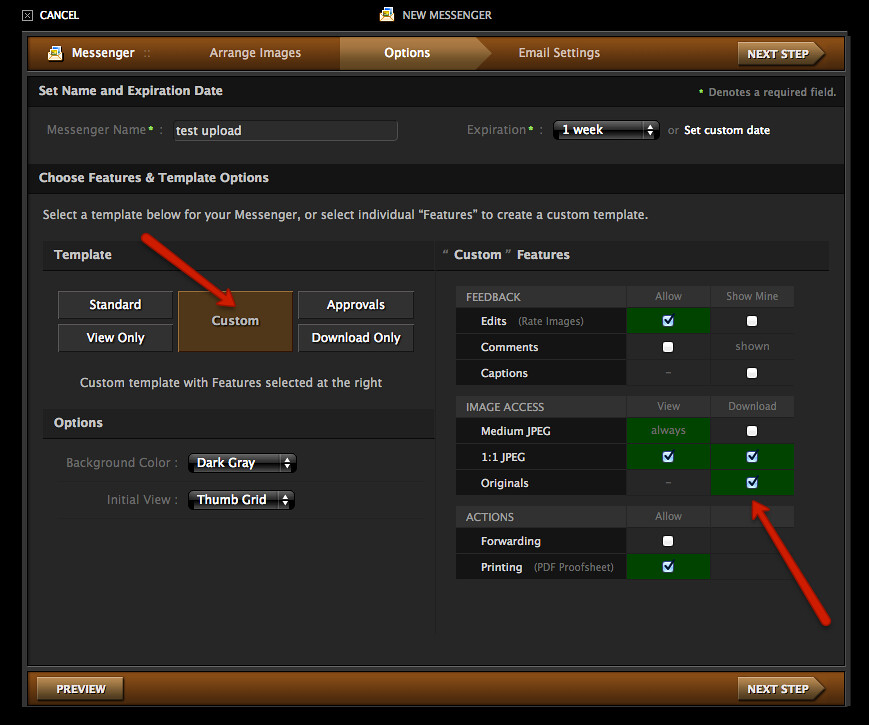 1. Enter email address.
             If you have created an address book, you may click on a name. You may also use commas and enter multiple addresses.
         2. Subject header will be the name of the messenger from the previous page by default. It is possible to change it at this stage.
         3. 
You may enter an optional message
in the white text box.

         4. Click on Send to finish the wizard.